Bar Stool Bases
Protect Your Floors. Get The Right Bar Stool Bases for your floor.
All-Star Ezy Clean bar stool bases are good on Wooden floors,  tiles &  carpet.
     
Get extra protection if you think the wood is a bit soft.
All-Star Ezy Clean Bar Stool Bases
Great for all surfaces, but check if the floor is prone to scratching as you might want extra protection
Great on carpet as it doesn't pick up the dust,
Great on timber decks, outdoor surfaces and grass;
Easy-clean 5 star base with wide feet = less denting on the floor;
Nice wide feet underneath for gliding along or gripping to any surface;
The strength is fantastic with its welded construction;
Offers a lot more stability and style like no other.
Does not require floor protection but you should ask if you think its a concern.
Won't stiletto and dent wooden floors or sink into grass;
Very attractive with stylish tapered and bevelled ends.

Star bases can go on the grass because they won't sink in like a stiletto. 

There are Mainly 2 types of bases that really protect your floors.  450mm shiny chrome round base or our 500mm base.
Durable   Plastic  Feet  On The  ALL-STAR EZY CLEAN BASE.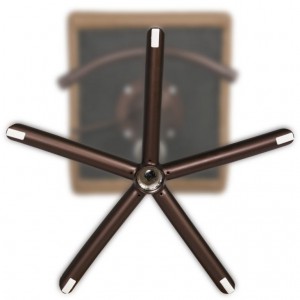 Below shows the floor protection under the round bases for the wooden floors.
Round Base features:
Solid reinforced welded underside plate
Optional diameter sizes available for anti-tipping over
Requires floor protection underneath if used on timber floors
Counter-weight available for child safety ( a heavy plate fixed under the base )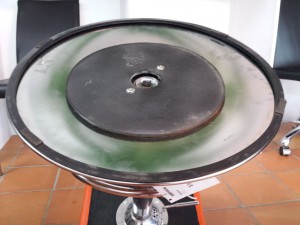 With the safety addition under the round 500mm safety base.
There no way this kid will tip the bar stool over with a SOLID STEEL counterweight fixed underneath if needed.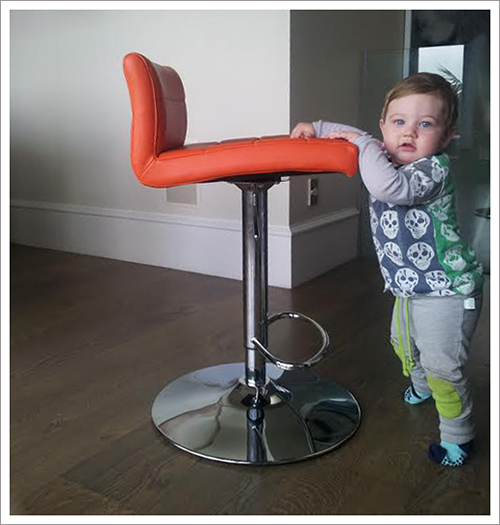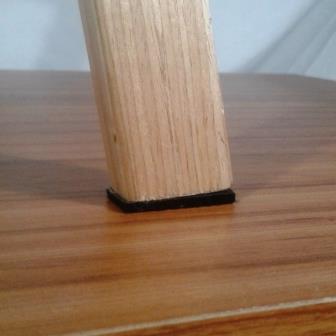 Floor protection on wooden legs work really good with a bigger surface to stick to and will slide well on a smooth surface.
This works really nice and feels good the floor and good to move around  nice and quietly.